Grand Canyon Skywalk Tours
Contents
Grand Canyon Skywalk Tours
While a walk down the impressive Skywalk is certainly one of the West Rim's most alluring features, there are several other incredible sights and activities to discover at Grand Canyon West.
Begin your adventure from Las Vegas as you climb aboard a helicopter or airplane. Fly over Lake Mead, Hoover Dam, the Mojave Desert and, finally, the enticing West Rim. After a breathtaking landing, head to the Skywalk. Peer through the translucent glass platform beneath your feet and feel the adrenaline build up inside you. For those looking to dive even deeper into West Rim, hop back in a helicopter and make the 4,000ft descent to the canyon floor! This top-to-bottom tour is the only way to fully experience the Grand Canyon.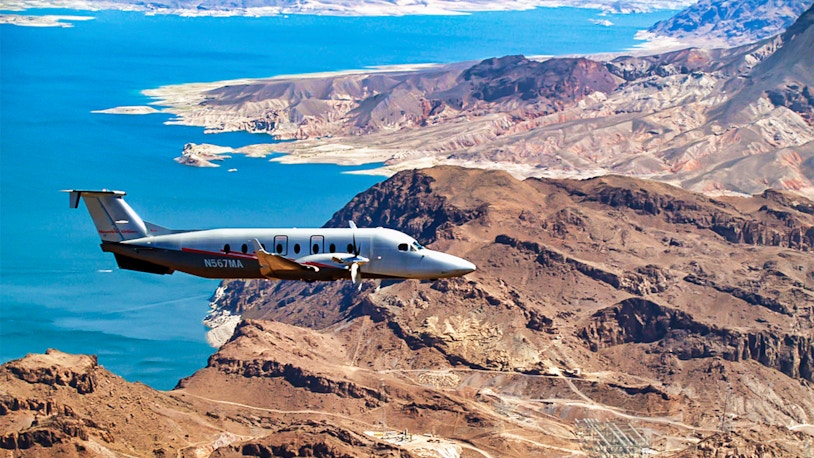 Airplane Tour from Las Vegas + Skywalk
What: Fly via airplane from Las Vegas to the Grand Canyon. Once you've landed at the West Rim, enjoy the free access to the hop-on hop-off free shuttle that runs between Eagle Point and Guano Point. Includes access to the Grand Canyon Skywalk.
Flight Time & Landing Time: Approximately 2 - 2.5 hours
Total Duration of Tour: 4-7 hours
Other inclusions: Hotel pick-up and drop-off, West Rim entrance fee, lunch
Grand Canyon West Rim Skywalk FAQs
Absolutely! In fact, the Skywalk can support the weight of 71 fully loaded 747 airplanes. To put this into perspective, that's equivalent to more than eight hundred 200 lb. people. It can also withstand winds up to 100 miles per hour and magnitude 8.0 earthquakes. Still not convinced? The red limestone that anchors the Skywalk can support 16,000 pounds of pressure per square inch.
Can I take pictures at the Skywalk?
Unfortunately, no. To protect the glass paneling from scratches, personal items including cameras and cellphones are not allowed on the Skywalk. But, you can purchase a souvenir photo from a professional photographer. You'll also be required to wear fabric shoe covers to prevent scratching.
What is the Legacy Package?
Grand Canyon West is privately owned and operated by the Hualapai Tribe and requires the purchase of a Legacy Tour Package for entry. It includes a self-guided tour of all points of interest at Grand Canyon West, as well as unlimited use of the hop-on hop-off shuttle to Eagle Point, Guano Point and the Hualapai Ranch. If your Headout tour includes landing at the West Rim, it is safe to assume the tour price includes your Legacy Package. In addition, some tours include a meal coupon, which includes a meal at any of the on-site canteens, excluding the Skywalk Restaurant.